WELCOME TO PEOPLE FIRST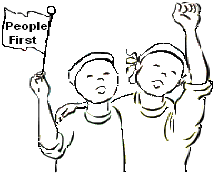 PROVIDING SERVICES TO ALL AGES
Mission Statement:

The Focus for People First is to have a caring attitude while individualizing client services and assisting them in reaching their highest level of independence.


People First was started in October 2004 by Connie Robinson.

Connie Robinson Owner of People First, began her career at 19 by providing direct care to members. Over the years she has seen a shift in the focus of companies from the actual care of the members to maintaining profits. In 2004 she resigned her administrative position and set about opening a business that would bring the focus back to where it belongs-with the people, and People First was created. This attitude is extended not only to the members but also the families and the caregivers who work with them.

Jessica Diehl, has been our Training Coordinator here at People First since February 2009. She is a very proud mother of four wonderful daughters, two with disabilities and clients of People First since 2004. Some of her past work experience include: 7 years with the AZ Health Department, Office for Children with Special Health Care Needs as a Parent Leader with Tri City Partnership working with other communities and parents to build awareness and support for children with special needs all across Arizona. She brings knowledge as well as real life experience to this position.


Eusebia Otero is our Developmental Home Coordinator. With her many years of experience providing oversight of homes for and working closely with people with special needs, she is a welcome addition to our team. She consistently goes above and beyond to ensure that the homes she monitors, the families she supports, and the members she advocates for have the best care and attention possible.

Rene Winchester is our Coordinator for Home and Community Based Services (HCBS) Maria began her care giving career as a direct care worker. She brings not only these skills but compassion and leadership to our team.

Ric Soutar our Office Manager comes to us with 13 years experience in both costumer service and as an Administrative Assistant. He will most likely be your first contact here at People First. He has proven to be efficient and very organized. We are pleased to have Ric join our team.

Lynne Graska our Insurance Coordinator assists staff with health insurance needs.


Together with all of the wonderful caregivers who provide service, we make up People First. A team dedicated to providing the best possible care to members and their families, following the adage... "Do what you love and success will follow."